Lit "X-RAY ON" Signs
TSG's lighted x-ray warning signs conform to 21-CFR-1020.40 Federal requirements for x-ray warning indicators. Available in either single sided or double sided.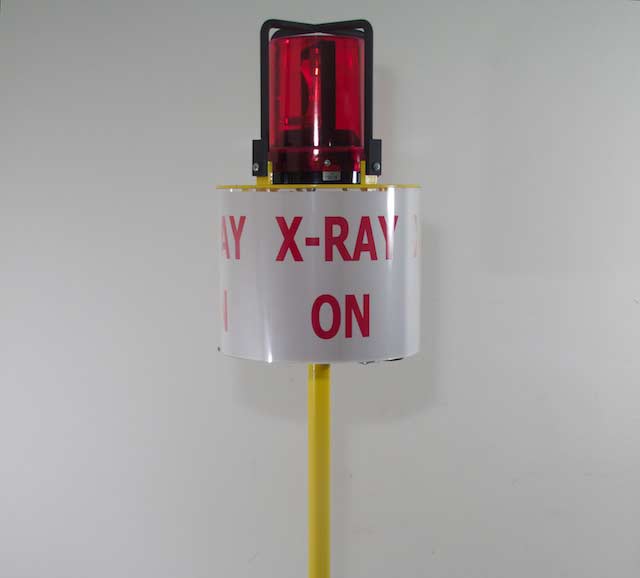 Lit "X-RAY ON" Beacons
Features include illuminated sign and optional audible device. Compatible with most portable x-ray equipment.

Monitors up to 10 external lamps, includes touch screen interface and other leading-edge technologies. Lightweight operation for portable and room use. Designed to meet federal and state regulations for visible/audible indications of radiation safety.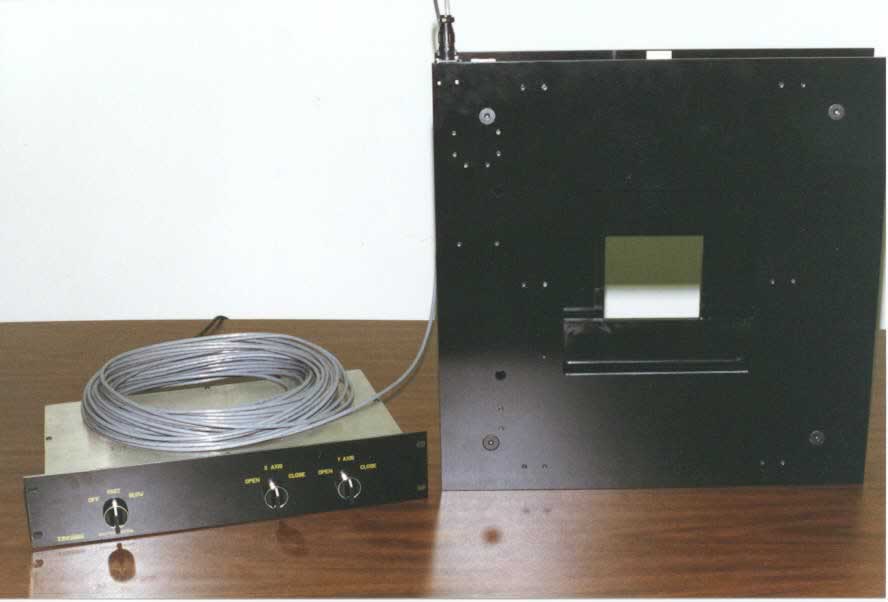 2-Axis X-Ray Image Intensifier Shutter
This shutter system is a commonly used component in real-time x-ray radiography applications for image masking and intensifier shielding up to 320 kV x-rays. The shutter uses two-speed reversing DC motor drives that are controlled by standard 19" rack mountable operator panel. Catalog no. 203019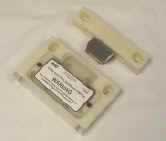 C.D.R.H. Type Dual-Switch Safety Interlock Assy.
Federal regulations require the use of dual safety interlocks on the doors of x-ray cabinets and rooms. One of the dual interlocks must be of the type that results in a physical disconnection of the high-voltage supply circuit. TSG's CDRH type switch assembly meets those requirements. Catalog no. 503003

Multi-Axis Manipulators
TSG manufactures both standard five-axis and custom multi-axis manipulators for handling of parts during real-time x-ray inspection applications. Five axis units include X, Y, Z, Tilt, and Rotate axes of motion. Each axis is reversible, variable speed, and remotely controlled from the operator's console.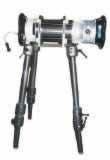 Adjustable Tube Stands
TSG's 4-Leg stand for x-ray tubes has collapsible adjustable legs and a rotating tube clamp. This versatile unit is suited to many portable applications and is adaptable to most tubeheads by specifying the appropriate tube clamp. Catalog no. 203003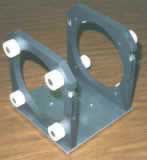 Tube Mounting Clamps
A variety of standard and custom designed clamping devices are available for most any model of industrial x-ray tube. Tube mounting can be either fixed or roller type to allow rotation of the tube, and can be fitted with a swivel joint for two-axis motion. (Catalog no. 203008 shown)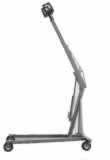 Mobile Hydraulic Tube Stand
This versatile mobile stand is equipped with pneumatic wheels, includes a rotating swivel joint, and can handle most model x-ray tubes. Specific tube mounting clamp must be ordered separately. Catalog no. 203001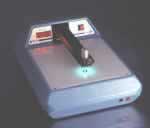 X-Rite Model 301 Densitometer
Ensures accurate quality control of your film processing. This model has easy to read display, lighted work surface, and rugged construction. Its wide range accurately determines densities up to 5D. Catalog no. 302001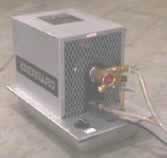 X-Ray Water Coolers
Many x-ray tube require continuous cool water flow to prevent over-heating and thus tube failures. TSG supplies water coolers in a variety of sizes to meet x-ray applications. Models are available with flow and thermal monitoring devices.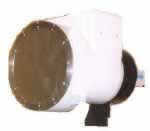 X-ray Image Intensifiers
At the heart of many real-time x-ray applications is the high-contrast image intensifier. Available in a variety of sizes with single, dual, or triple mode field sizes.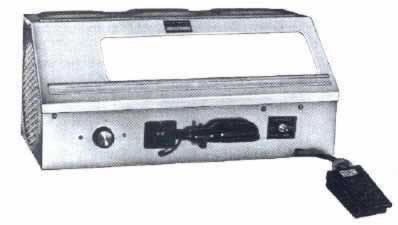 Film Viewers & Illuminators
Film illuminators are available in a variety of models and sizes with an assortment of capabilities for viewing films with up to 5.0 density. Let TSG assist you in choosing the right model for your application.
Shown here above is merely a sampling of the many x-ray accessory items available from TSG. Call us for more information on equipment, systems, accessories, and services available to meet your x-ray testing needs.